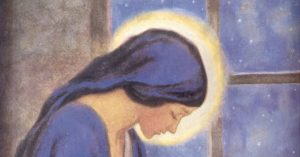 Pastor Rich Knight
Central Congregational Church
Dec. 2, 2018
Luke 1:26-38
The Christmas story is found in Matthew & Luke. John begins his gospel with a poem about the Incarnation, but doesn't tell us any of the story. Mark skips the birth and jumps right in with John the Baptist.
Luke 1:26-38
          In the sixth month the angel Gabriel was sent by God to a town in Galilee called Nazareth, to a virgin engaged to a man whose name was Joseph, of the house of David. The virgin's name was Mary. And he came to her and said, "Greetings, favored one! The Lord is with you." But she was much perplexed by his words and pondered what sort of greeting this might be. The angel said to her, "Do not be afraid, Mary, for you have found favor with God. And now, you will conceive in your womb and bear a son, and you will name him Jesus. He will be great, and will be called the Son of the Most High, and the Lord God will give to him the throne of his ancestor David. He will reign over the house of Jacob forever, and of his kingdom there will be no end." Mary said to the angel, "How can this be, since I am a virgin?" The angel said to her, "The Holy Spirit will come upon you, and the power of the Most High will overshadow you; therefore the child to be born will be holy; he will be called Son of God. And now, your relative Elizabeth in her old age has also conceived a son; and this is the sixth month for her who was said to be barren. For nothing will be impossible with God." Then Mary said, "Here am I, the servant of the Lord; let it be with me according to your word." Then the angel departed from her.
There are many biblical characters I can relate to.
I'll bet you can, too.
I can relate to Peter, the Disciple.
Sometimes he got it just right. Other times he was a blockhead. I can relate to that.
I can relate to Jonah, preferring to do an easy task rather than the job God wanted him to do. 
I can relate to Moses when God called him to do a really hard task, and Moses says to God, "Have you met my brother, Aaron? You should consider him." 
I can relate to David's prayers in the book of Psalms – praise, laments, faith, questioning.
I can relate to Martha in the Mary & Martha story, choosing to be busy rather than still before God. 
There are lots of biblical characters that I can relate to. But the Virgin Mary has never been one of them! She was a teenager from a small, one-horse town in northern Israel, who mysteriously became pregnant while engaged to a man named Joe. It's hard to put myself in Mary's shoes. How 'bout you?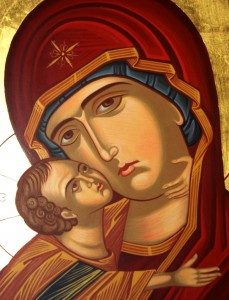 But then I started reading a book entitled, "Five Questions of Christmas." The author, Rob Burkhart, makes the case that we can all relate to Mary's predicament.
For instance, Mary was placed in an impossible situation, where nothing made sense 
"How can this be?"
The circumstances are radically different for us, but the question is often the same, 
"How can this be?"
"How can God allow this? How can a good God allow this?
"Why is this happening? What is happening?
"How does this fit into the story of my life, as it was supposed to be unfolding? 
Mary had to be thrown into a state of confusion and shock.    – "How can this be?"
Many times when tragedy or sudden changes strike we feel like we're just waking up from a bad dream. "Is this really happening? Maybe I'll wake up and thing will be back to normal?"
Our struggles often bring confusion and shock.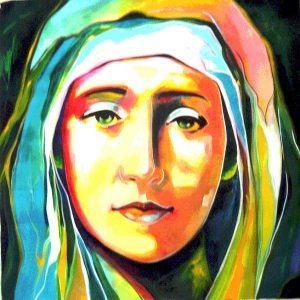 Mary also had to be feeling incredible fear. Fear for her future, her reputation, her relationship with Joseph, her relationship with everyone else in the small town she grew up in. She may have even feared for her physical safety, as the punishment for adultery could be stoning ("betrothed" was stronger than our engagement). So she had to have felt a great deal of fear throughout her pregnancy.
Mary's life was turned upside-down and at times it must have felt that she could lose it all. We go through these same emotions when life throws us a curve. We come to an unexpected sharp turn in the road, and we wonder if can we make the turn? Can we stay on the road?
It might be a lay-off at work, like the 14,000 General Motors workers this week.
It might be a scary diagnosis, an uncertain prognosis.
It might be the unexpected change in an important relationship – a break-up, divorce or death
How can this be?
That's how Mary felt. That's how we often feel.
She also must have felt a loss of control. The situation was way beyond her ability to control it or even manage it. She couldn't control Joseph's reaction. She couldn't control what people would say about her. And she couldn't hide the pregnancy, not for long anyway. Crisis and tragedies and hardship almost always bring a loss of control.
We often experience this with our physical health. You feel something's wrong in your body. You get an appointment for two weeks from Friday. The doctor wants you to get tests. They get lined up for next Friday. Then come in the Friday after that and we'll talk about the results. And then you'll probably be sent to a specialist two Fridays after that. That's a lot of Fridays. That's a loss of control. That's what we experience. That's what Mary experienced.
She experienced it all – shock, confusion, fear, life out of control. So, let's think about her response.
If we can relate to her predicament, then we can learn from her response to it.
Young Mary's an amazing example for us of what to do when life doesn't make sense.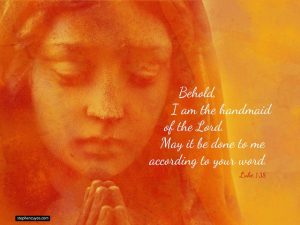 "Let it be done to me according to Thy Word," she says to the angel.
In other words, "Thy will be done."
Maybe her son learned that prayer and that kind of devotion to God from her?
Undoubtedly, he did.
William Barclay says that the essence of many of our prayers is, "Thy will be changed."
The essence of Mary's response was, "Thy will be done."
Mary is resigned to God's will, but not in a passive, weak, meek & mild way.  She's not a victim and she's not giving up when she says, "Let it be done according to what you've said." She's not giving up, she's giving herself whole-heartedly to God. That shows great courage and strength!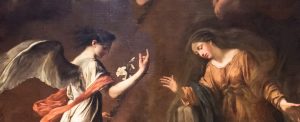 Mary is also an example of great faith that convinces one's self to trust God.
I remember going through a crisis years ago and a parishioner kept saying to me, "Keep the faith," which is kind of an ironic thing to say to a minister . . .  But he was saying, "Keep trusting God. God's not gonna let you go." That's the kind of faith Mary had.
Rob Burkhart says, "Mary's God is ultimately and always trustworthy. She trusted God with everything, including her body, her baby, and her future."  She believed that even though the path ahead was unclear and undoubtedly the hardest challenge she would ever face, she believed God would make a way. And God did.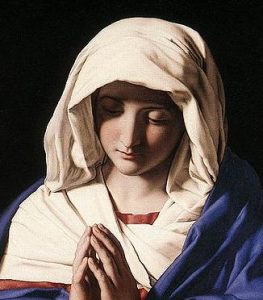 Another way to say it is, Mary knew what story she was in. She knew she was in the story of God's redeeming love. She knows that the story of her people includes the Coming of a Messiah, "born of a young woman." – "For unto us a child is born. Unto us a son is given." She soon goes to see her cousin Elizabeth who confirms that God is at work, as she says, "The Mother of My Lord has come to visit me."
God chose so well when God chose Mary!
She was chosen for history's greatest assignment.
And she accepted it with faith and trust and conviction.
Her greatest desire was to be used by God for God's purposes and God's glory.
And she did just that, giving us the first and best Christmas present ever – Jesus Christ our Lord!
Thank You, God!
And Thank You, Mary!