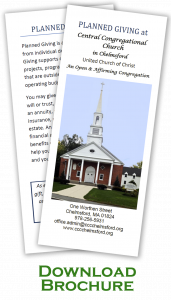 Planned Giving
Planned Giving is a gift to the church from individual donors. Planned Giving supports our mission through projects, programs and activities that are outside the annual operating budget.
You may give through a bequest in a will or trust, or by cash, securities, an annuity, retirement plan, life insurance, personal property or real estate. An estate attorney, CPA or financial advisor can explain the tax benefits of each type of gift and help you choose what is best for you and your heirs.
As each one has received a special gift, employ it in serving one another
as good stewards of the manifold grace of God.
– 1 Peter 4:10-11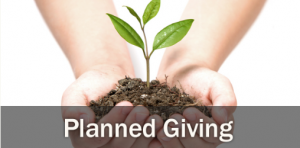 Administration
All gifts are administered by the Treasurer, under the direction of the Board of Trustees. Undesignated gifts are added to the Endowment Fund or the Remembrance Fund.
The Endowment Fund is a permanent source of funding. The Fund's earnings may be expended to maintain and preserve the church.
The Remembrance Fund helps finance church projects through both the Fund's earnings and principal. Any expenditure in excess of $1,000 must be approved by the church's Council.
The names of persons giving the church a donation or bequest are placed in a book for that purpose with, where appropriate, the value or type of gift identified, unless the person does not wish to be so recognized.
Contact John Carson, Board of Trustees Chairman, for more information. jwcarson@jenike.com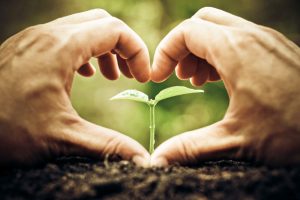 "Stewardship begins with love"
Thank you for taking the time to consider Planned Giving to Central Congregational Church. If you picked up this pamphlet and started reading, you obviously love our church and want to see it continue to thrive for years and years to come. Thank you for your love for your church!
The Bible teaches that our talents and our possessions are blessings that are not for our exclusive benefit but are to be used for God's purposes. Bequests to the church are not a way for the church to stockpile money. Instead, they are a way to promote God's mission and purposes.
As you know, churches use their endowments and other funds for a variety of purposes – to enhance existing programs and ministries as well as start new ones; to care for the physical property; to supplement budgets and much, much more. These bequests are especially important in uncertain times, which would certainly seem to describe our current age.
Giving to the church in this way is an act of faith, hope and love. The donor's gift is made in gratitude for God's blessings and in faith and hope in the future of Christ's church. Most of all, it's a gift of love.
Thank you for your consideration and most of all for your love.
Pastor Rich Knight, D. Min.
OTHER CHURCH TRUST FUNDS
Gifts can also be directed to one of CCC's other trust funds:
Ruth C. Berg Memorial Fund (music program)
Carson Park Memorial Trust Fund (capital upgrades and repairs)
Christian Education Fund (CE programs)
Hamilton Fund (property upkeep)
Lewis Memorial Christian Education Fund (CE educator)
Lewis Memorial Scholarship Fund (Holy Land travel)
Winn Fund (current expenses & needs)
Central Congregational Church
United Church of Christ
One Worthen St., PO Box 339, Chelmsford MA 01824