Social Action and Mission Committee's
Secret Santa – 2023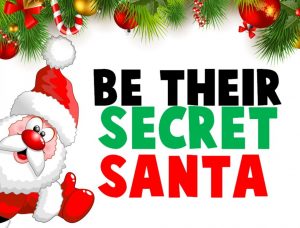 SAM's Secret Santa program provides gifts to children in need. Our Secret Santa sign-ups are online!
If you claimed a gift, you should have received a confirmation email with information about your selection and how to get the gift to SAM (Santa!) for delivery!
Gifts Must:
Be gift-wrapped.
Have a tag that should show the recipient's first name. Be sure this is securely attached to the gift!
Have a separate, easily removable, tag or slip of paper, which includes the Gift ID # and your contact information (phone and email address).
DROP OFF Dates & Times:
Gift collection of the wrapped & labeled gifts will be on December 10 & December 17! 
All gifts must be collected by SAM by Sunday, December 17th! 
Drop-offs are welcomed during Sunday services and via special appointment, as necessary.
If you'd like to do a curbside drop off or if any scheduled drop-off  date and time does not work for you, please let us know by emailing santa@cccchelmsford.org. We will make alternate arrangements with you.
Thank you for being a Secret Santa!
Questions? Contact us for help!
Just email the SAM's Secret Santa Elves at the North Pole: santa@cccchelmsford.org
Or reach out to Carol Boucek, Julie Carney, Cindy Bruetsch, or Rebecca Wisniewski
Thank you and Merry Christmas!