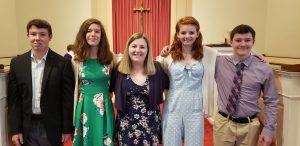 Excerpts from Confirmation Papers – 2018-2019
To have faith means to believe God has a presence in your life. Every day I am inspired to serve God because I know that this world was created to spread His kindness and love to others through us. So I serve in order to do God's work with Him and for Him. God is calling me to serve in the church by having people I care about be a part of the ways I serve and inspiring me to meet new people. I can serve God by doing His work and showing love to those around me and inspiring others to do the same.
The Holy Spirit is Jesus' spirit within everyone; it unites us. I think when we sing, it's our Holy spirits that really sing, because it comes together in one beautiful voice and unites everyone in the church. I think that is the most important part of our service . . . singing as a church is my favorite part.
Church is important because it reminds us, as we start each week, to be thankful and to remember to have faith and to keep God in our hearts and our minds. For the people that feel lost on their spiritual journey, it guides them back. I want to join this church to be part of a community of love and kindness, and to have the safety of doing it with people who have the same faith as me.
To have faith in God means that when you do anything, you know that God is helping you through every step. He can give you confidence to strive for what's best or what's right, and He can give you people who love you and can help you, while also giving you hard challenges. During our classes, we talked a lot about church and the different aspects of it. When doing this, I learned a lot of good about my church, the Central Congregational Church. I learned we have very involved people in several different service projects, Sunday classes and the church services. All of these involved people are extremely nice and have a ton of persistence and love.
In the class I also learned the importance of church. Church is important because it reminds you about your religion and your relationship with God when you forget it sometimes. Church can bring you closer to God through service, class, or just in a conversation with someone during coffee hour; and it shows you the people and followers of Christianity.
Having a strong relationship with God is important to me because He is someone you can always turn to talk to when you are going through a rough time. It is reassuring to know that you can always have someone to have your back. To me God is part of my support system because he is understanding, forgiving, and he always is listening and there for you when you need him the most. I feel like I experience God's presence in my every day life. I am able to experience his presence whenever I pray. I also experience God when I am able to see the beautiful works of life he makes, from nature to my family and friends.                                           
Overall, this year with my journey through confirmation class I have made the decision that I want to join the church and continue my faith journey. I have learned so much from this class. I can't wait to continue going to church and Sunday School, and continue to learn, as well as be able to expand my faith and my love for God and church, and continue to spread God's message and make a difference in the world.
The past several months have been an important time for me during confirmation class. Confirmation class has brought me closer to the people in my class and together we learned many new things. I have noticed that now, I do not just think of going to church as something that I do on a Sunday morning. Now I see church as a place where I can go to be closer to God and be around people who also may feel the same way. I want to become a member of the church because I would have the opportunity to be more involved in the church and to strengthen my faith. To me God is a powerful, kind, accepting person who is there for anyone and everyone, no matter who they are, what they have done, or where they come from. Everyone is a child of God, and can turn to him whenever they need help or guidance.
I understand Jesus as the Savior of all people. Jesus sacrificed his life for everyone, and even forgave those who betrayed him causing him to be crucified. I like Jesus' teachings about "love your neighbor as yourself" and "treat others how you want to be treated." Jesus wants us to speak and act towards others just the same as you would want them to talk and act towards you. To me, the Holy Spirit is God active in our everyday world. I think the Holy Spirit is how God created people, and how he makes his presence in our everyday lives.
Church is important because it is a place where people can go to be close to God and share their concerns and prayers. What I like best about church is that everyone is there for one another no matter what. I also like that at our church, everyone's joys and concerns can be shared. It's nice to know that you have a supportive group of people praying for you when you need it most.
To have faith in God means to me to have a belief in a superior being that helps us cope with harder times in life. My faith in God helps inspire me to serve God and our church because church is a place to use my faith and rise up to show how much knowledge and belief I have in God.  I think throughout this class I have definitely changed my view of the church and have a better understanding of what this church means to me and to others in our church. I experience God when I pray in the church or any time I experience nature. Something I like best about the church is how people know each other. Church is important because it helps you cope with feelings during hard times.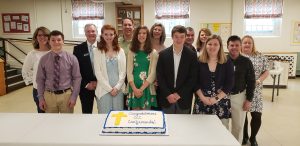 May 5, 2019