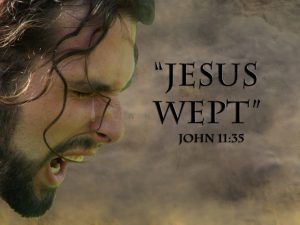 One Verse Wonders Series
Pastor Rich Knight
Central Congregational Church
Sept. 23, 2018
John 11:1-44
We're looking at "One Verse Wonders" this Fall. These are one sentence statements that teach us about the wonders of our faith. They're verses that have had a lasting impact upon our faith. They have shaped our faith and countless lives. "One Hit Wonders" in music are singers who had one hit song and then are never heard from again. One Verse Wonders never go out of style. They continue to be heard. They continue to speak.
Let's take a look at John 11:1-44
Now a certain man was ill, Lazarus of Bethany, the village of Mary and her sister Martha. Mary was the one who anointed the Lord with perfume and wiped his feet with her hair; her brother Lazarus was ill. So the sisters sent a message to Jesus, "Lord, he whom you love is ill." But when Jesus heard it, he said, "This illness does not lead to death; rather it is for God's glory, so that the Son of God may be glorified through it." Accordingly, though Jesus loved Martha and her sister and Lazarus, after having heard that Lazarus was ill, he stayed two days longer in the place where he was. Then after this he said to the disciples, "Let us go to Judea again." The disciples said to him, "Rabbi, the Jews were just now trying to stone you, and are you going there again?" Jesus answered, "Are there not twelve hours of daylight? Those who walk during the day do not stumble, because they see the light of this world. But those who walk at night stumble, because the light is not in them." After saying this, he told them, "Our friend Lazarus has fallen asleep, but I am going there to awaken him." The disciples said to him, "Lord, if he has fallen asleep, he will be all right." Jesus, however, had been speaking about his death, but they thought that he was referring merely to sleep. Then Jesus told them plainly, "Lazarus is dead. For your sake I am glad I was not there, so that you may believe. But let us go to him." Thomas, who was called the Twin, said to his fellow disciples, "Let us also go, that we may die with him."
When Jesus arrived, he found that Lazarus had already been in the tomb four days. Now Bethany was near Jerusalem, some two miles away, and many of the Jews had come to Martha and Mary to console them about their brother. When Martha heard that Jesus was coming, she went and met him, while Mary stayed at home. Martha said to Jesus, "Lord, if you had been here, my brother would not have died. But even now I know that God will give you whatever you ask of him." Jesus said to her, "Your brother will rise again." Martha said to him, "I know that he will rise again in the resurrection on the last day." Jesus said to her, "I am the resurrection and the life. Those who believe in me, even though they die, will live, and everyone who lives and believes in me will never die. Do you believe this?" She said to him, "Yes, Lord, I believe that you are the Messiah, the Son of God, the one coming into the world." When she had said this, she went back and called her sister Mary, and told her privately, "The Teacher is here and is calling for you." And when she heard it, she got up quickly and went to him. Now Jesus had not yet come to the village, but was still at the place where Martha had met him. The Jews who were with her in the house, consoling her, saw Mary get up quickly and go out. They followed her because they thought that she was going to the tomb to weep there. When Mary came where Jesus was and saw him, she knelt at his feet and said to him, "Lord, if you had been here, my brother would not have died."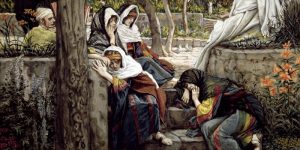 When Jesus saw her weeping, and the Jews who came with her also weeping, he was greatly disturbed in spirit and deeply moved. He said, "Where have you laid him?" They said to him, "Lord, come and see." Jesus began to weep. So the Jews said, "See how he loved him!" But some of them said, "Could not he who opened the eyes of the blind man have kept this man from dying?" Then Jesus, again greatly disturbed, came to the tomb. It was a cave, and a stone was lying against it. Jesus said, "Take away the stone." Martha, the sister of the dead man, said to him, "Lord, already there is a stench because he has been dead four days." Jesus said to her, "Did I not tell you that if you believed, you would see the glory of God?" So they took away the stone. And Jesus looked upward and said, "Father, I thank you for having heard me. I knew that you always hear me, but I have said this for the sake of the crowd standing here, so that they may believe that you sent me." When he had said this, he cried with a loud voice, "Lazarus, come out!" The dead man came out, his hands and feet bound with strips of cloth, and his face wrapped in a cloth. Jesus said to them, "Unbind him, and let him go."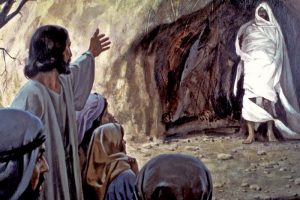 Our "One Verse Wonder" for today is John 11:35
In most translations (King James, New King James, NIV, RSV)  it's simply, "Jesus wept."
I mentioned in the Thursday email that this is the shortest verse in the Bible. Thursday afternoon I did a little research on that, just to be sure. It's the shortest verse in most English translations. But in the original Greek, it's not the shortest verse. Luke 20:30 is.  "The second"
(It's found in the hypothetical story posed to Jesus about a woman who marries 7 brothers, because they keep dying and she must marry the next one in line. "The first one died,"  – vs. 29,  "The second" – vs 30.)
So in the original Greek, "The second" has fewer letters than "Jesus wept." I really need to research before I speak!
Of course, the verse divisions are not in the original manuscripts. They were added in the 1551 to make it easier to find, refer to and study various passages.
I discovered something else interesting and weird in my research. The phrase "Jesus wept" is sometimes used as an expletive. It's never my goal to teach you expletives. Many of you need no coaching in that at all! (just kidding!)
In England, Ireland (particularly Dublin and Belfast) and Australia, the phrase "Jesus wept" is a common expletive, curse word/phrase spoken when something goes wrong and one just can't believe it. (from Wikipedia)
It's also used sarcastically to express indifference to someone else's misfortune. It is commonly used as an expletive in Stephen King novels. It's been used in a long list of books, television shows and movies, including Lawrence of Arabia (1962).
This is another example of how a fallen world takes something absolutely beautiful and makes a mess or a mockery of it.
In church Christians sing, "All Hail the Power of Jesus' Name" or "Jesus is the sweetest name I know" or the Gaither's song, "Jesus, Jesus, Jesus, there's just something about that name." And yet to many "Jesus" and "Jesus Christ" is simply another expletive, a curse word or phrase to say when angry. As you know, there is a commandment about that. (#3)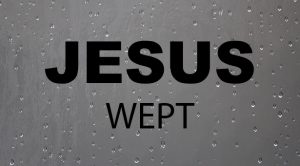 But let's get to the heart of the issue today.
Why is this verse so special?   "Jesus wept." What's so special about the fact that Jesus wept?
It shows the empathy of Christ – he understands our grief, our losses, our hurt and our pain.
He understands the sting of death.
He understands and cares about our heartaches.
He knew he was going to raise Lazarus from the dead, but he still grieved over the heartache of grief.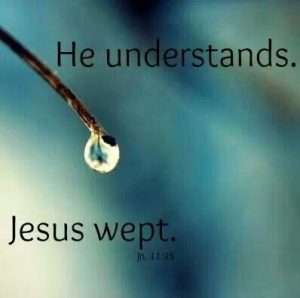 (John uses a very strong word here for weeping. It's basically sobbing. In verse 34 it says that Jesus was "greatly disturbed" and "greatly moved.")
Think about it this way: Have you ever talked to someone about a problem and you knew while the conversation was going on that they had no idea what you were going through? Christ understands what we're going through.  He understands our grief.  "Jesus wept."
The Book of Isaiah says that the Messiah will be "a man of sorrows and acquainted with grief."  (Is. 53:3)
Jesus certainly fulfilled that prophesy – not only through the suffering of the Cross, but also how he responded to the loss of his dear friend Lazarus.
Jesus was "acquainted with grief."   He wept.
John Stott – "I could not believe in God if it were not for the Cross. In the real world of pain and suffering, how could one believe in a God who was immune to it."
This passage shows that our Savior is not immune to our suffering!  Christ understands our grief!
I'd like us to spend a few minutes this morning thinking about grief.
Grief is a subject we all have faced or will face, and yet we talk so little about it.
Let's take a look at two hand-outs. The first comes from the training I received to become a Life Coach for the Dying and Grieving.
"Coaching for End of Life"
with Dr. Don Eisenhauer
"If you want to live well and love well . . .
You have to mourn well."
Alan Wolfelt
"How you respond to your losses will affect you the rest of your life."
Don Eisenhauer
Myths concerning Grief
1. Grief & Mourning are the same.  (Grief is what we feel on the inside. Mourning is the outward    expression. Everyone grieves, but people mourn in many various ways and in varying degrees)
Grief & Mourning go through an orderly process. (Not even close!)
It's best to keep busy and avoid the pain. (It can't be avoided. You have to go through it. Like a beach ball submerged in a swimming pool, grief will rise to the surface)
The goal of mourning is to "get over it." (Goal: to reconcile our grief, living life again recognizing the pain is still there)
Tears and other displays of emotion are a sign of weakness. (Not at all. They're a sign of love. "Grief is the price we pay for love.")
Grief is only an emotional reaction. (No, it can affect us physically, psychologically and spiritually)
No one can help you with your grief.
"Time heals all wounds." (No. It's the mourning that heals.)
Moving on with your life means forgetting the one you lost.
Grief finally ends. (It's often just below the surface & we experience ripples and "grief bursts."
This next hand-out comes from my 20+ years of facilitating grief support groups.

Everything I Needed to Know I learned
at
My Grief Support Group.
A. The power of shared experience means that the people who will be most helpful to you are those who've been through it.
B. Good-hearted people will try to take your grief away.
C. Good-hearted people will say the dumbest things.
D. Life will not feel safe for a while, like living on An earthquake fault line.
E. People often hit emotional valleys in 3-month intervals.
F. People can get stuck or mired down in one of the emotions of grief for a long time. Especially anger and depression. Often anger gets directed or channeled at someone – ex. doctor, nursing home, funeral director, pastor, etc.
G. The week leading up to an anniversary/holiday/birthday is often more difficult than the day itself.
H. In the early months, grief is like the stock market in decline, in a "bear" market. It usually gets worse before it gets better.
I. Farther along, the journey of grief is like the stock market ascending in a "bull" market. The dips or downturns are farther apart and often not as deep.
J. Grief ripples through life. (birthdays, anniversaries, graduations, weddings, etc)
K. A number of people speak of "signs from their loved ones, even visitations.
L. Faith and a faith community are invaluable resources.
I'll close with a story from Elizabeth Kubler-Ross, the pioneer on the journey of grief.
Kubler-Ross tells of the time she was doing research in a hospital, specifically how in one wing of the hospital people died better – more courageously, more positively, more at peace. Dr. Kubler-Ross and the hospital wanted to know why this was so. Was it the nurses that made the difference? The doctors? The décor? What was it? It turned out to be an African-American cleaning woman, who spoke quite often and quite naturally to the patients who were dying. She put it this way:
"I held my Mama when she was dying! I held my husband in my arms when he was dying! And I cradled one of my babies in my arms while she was dying! I'm not afraid of death! I've seen it! I can deal with it!"
And that's where we need to be – for ourselves and for others.
Amen.