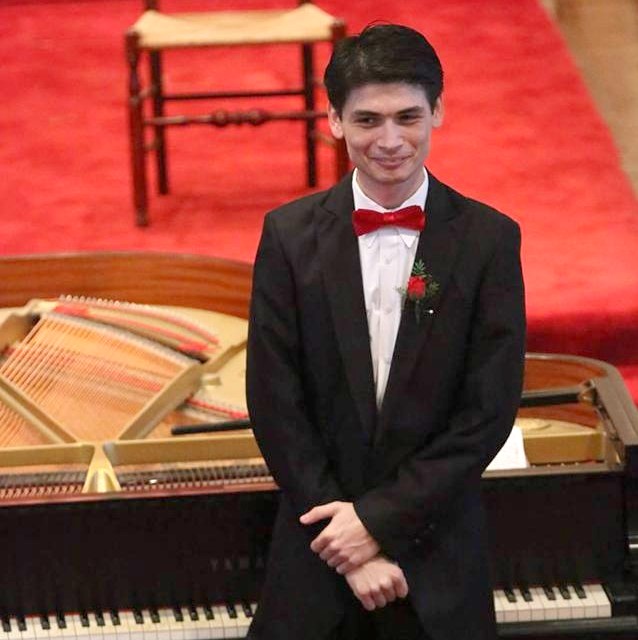 Francisco Fernandez, our Director of Music Ministries!
Francisco began at CCC in September of 2015. He's an outstanding musician, a wonderful person and a true blessing to our church community and beyond. He plays with great passion and exceptional skill. A virtuoso concert pianist, Francisco also makes the organ come alive. In addition, he conducts our Chancel Choir and Bell Choir, providing our services with great, inspiring music!
Francisco Fernandez is internationally recognized as a gifted musician, with an active international concert piano career as a soloist, chamber musician, and artist teacher of piano. Because of his versatile skills as a pianist, chamber musician, and conductor, he has been invited to perform and teach at numerous concerts and international festivals. He holds a master's degree in piano performance from The Boston Conservatory and has performed as soloist, collaborative pianist, and chamber musician in the United States and Latin America. He has also appeared as a guest solo pianist with orchestras such as the Friends of Thayer Chamber Orchestra, Nashaway Philharmonic Orchestra, Clark University Sinfonia, Atlantic Union College Chamber Orchestra, and University of Science and Arts of Chiapas Symphony Orchestra. 
He currently works in Boston with his wife, Taide Prieto, a professional cellist.

Our Choirs
Both the chancel choir and the bell choir rehearse Thursday nights. New members are always welcome!
Concerts!
Francisco and our Chancel Choir present concerts at Christmas time and on Palm Sunday. These are truly remarkable events, with a  full orchestra and professional soloists. We present these concerts as a gift to our community and to help us all celebrate the meaning of these sacred holidays.
Taide Prieto, Professional celloist
Francisco is married to an incredible musician in her own right! Taide, plays all over the world, but she is often found at Central Congregational Church, sharing her beautiful music at the start and at the conclusion of our services.