Make a Difference Week – July 26-30, 2021
We're very excited about our third annual Make a Difference Week! We'll be outdoors (weather permitting) for all our projects as well as our opening and closing programs. All standard Covid 19 protocols will be in place, such as a mask requirement and social distancing.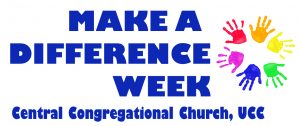 A Week of Service for Kids Grades 3-8
High School Youth may serve as volunteers
Monday – Thursday 9:00 am to Noon
Friday will be a family fun day at Kimball Farms.
Possible Community Service Projects:  
Neighborhood, Park and/or Rail-trail Clean-Up
Community Garden Work
Making treats & toys for the Lowell Humane Society
"Caulk the Walk Project"
Canned Food Drive
Central Congregational Church
One Worthen St., Chelmsford MA
978-256-5931    www.cccchelmsford.org