WHAT IF YOU KNEW WHERE ALL OF YOUR MONEY WAS GOING EACH MONTH?
Are you ready to take control of your money? Do you know someone who needs to take control of their money?  Financial Peace University (FPU) is a nine-lesson course designed to help everyone build a budget, dump debt, grow your wealth, and leave money stress behind! Each lesson, taught by Dave Ramsey and his team of financial experts, is based on biblical wisdom and common sense. In the FPU group, you'll be motivated and encouraged by others just like you! When you sign up for FPU, you'll get your member workbook and one free year of Financial Peace Membership, with access to exclusive online tools to help you on your journey. Classes are held in the Fall and the Spring.  Contact Peter White at Peter.c.white@comcast.net for more info.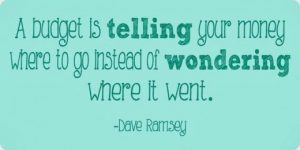 Dave Ramsey is one of the most popular and  respected teachers of financial management in the country today.
You can learn more about him and this course by going to: