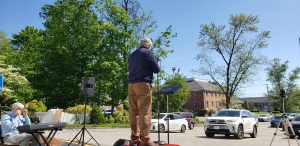 Drive-In Church
We hope you'll join us Sunday morning at 10:00 am for worship. Presently we're gathering in our parking lot for Drive-In Church! We broadcast the 30 min. service onto your car radio. You may also sit outside under some shade trees as long as you have a mask and socially distance. Our Music Director, Tudor Bota, inspires us each week with his beautiful music, and Pastor Rich Knight leads us in worship and prayer and shares spiritual truths that touch our lives. Join us!
On Sun. Nov. 8 we'll worship in Carson Park on the grounds of the church. Folks typically bring lawn chairs and blankets to sit on. We'll also set out chairs for those who need them. Social distancing and masks are obviously required.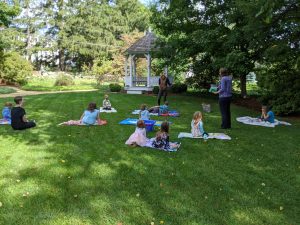 Sunday School
We're holding outdoor classes during Drive-In Church. Our feeling is that our kids are going to be "Zoomed-out" most weeks, and that in-person classes (outdoors with masks) are our best alternative at this time. We will hold a pre-school class, but unfortunately we won't be able to provide nursery care. Parents are to bring their children to the picnic tables in the park between 9:50 am -and 9:55 am. In addition to masks we ask that the children have a blanket or beach towel to sit on, not only for comfort but also to assure social distancing.  Please contact Carolyn Chapman, Christian Education Chair, with any questions.  If it rains, there will be no Sunday School.
As a church family, we are diverse in appearance, talents, gifts and viewpoints, and we believe that we are stronger and more faithful because of our diversity. We strive to welcome visitors warmly, yet without overwhelming you!
We look forward to the opportunity to meet you personally!